SM Pro Audio has announced three VST/VSTi compatible hardware units at MusikMesse 2008: V-Box, V-Rack, and V-Pedal.
From the announcement page:
Based around the recently developed 'Powered by VFX (TM) embedded technology platform, VST and VSTi plug-ins can be loaded directly into SM Pro Audio's new V-Box, V-Pedal, or V-Rack; Three powerful and unique products designed to provide musicians, engineers, producers, and guitarists performance products they can rely on. The new V-Machines offer VST/VSTi plug-in compatibility in stand-alone hardware units without the need for a standard PC/Mac computer!
V-Box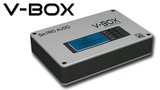 The V-Box is a compact VST/VSTi hardware playback module built for performance keyboard players and DJ's. It is one little beast that can't be underestimated once loaded up with your favorite VST instrument and effect plug-ins. Take your plug-ins on the road or into the studio and access them live without a computer. Multiple plug-ins can be pre-loaded into bank/preset memories for immediate access. Combine VST and VSTi plug-ins into chains, splits, and layers to create extremely rich and unique sounds. Full external MIDI controller support allows users access to available loaded plug-in parameter controls such as virtual dials, switches, and faders. Infinitely adaptable and powerful, the V-Box is set to become a truly indispensable tool.
V-Pedal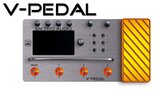 The V-Pedal has been specifically designed for guitarists wanting to take the best guitar plug-ins (and more) out on the road in a rock-solid 'all in one' hardware unit. With mic/line inputs, programmable stomp switches and rotary encoders, TFT display, expression pedal, and a host of other features, the V-Pedal gives guitarists something they have never had before. The freedom to develop unique sounds from the thousands of available VST plug-ins. It's no secret that some of the very best guitar tones and effects are now being created from within computer software plug-ins. The V-Pedal gives guitarists access to these and many more sound options in a dedicated floor stomp box. Built like a tank, simple to use, and with unheard of sonic flexibility, the V-Pedal rocks like no other.
V-Rack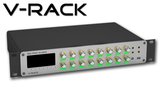 The V-Rack features the same functionality as the V-Box, with the addition to a pair of balanced stereo audio inputs and multiple balanced output pairs. Perfect for studio or live use, the V-Rack is well suited for use as an outboard effects unit, multiple output synthesizer module, or even a mastering unit. The V-Rack features high-end AD/DA converters and offers a level of performance suitable for all professional environments. A true chameleon, the V-Rack can be configured to operate as just about any outboard audio device on demand.
All SM Pro Audio V-Machines will ship with control configuration software compatible with Linux, Windows and Mac OS X.
SonicState has a nice demonstration video here.