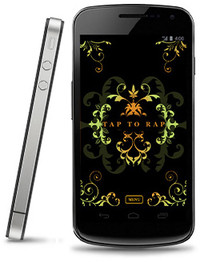 Smule has announced AutoRap, a free app for iOS and Android that turns speech into rap.
YO. This is AutoRap. It turns speech into rap, and corrects bad rapping.

With Smule's proprietary "rappification" technology, AutoRap maps the syllables of your speech to any beat, creating a unique rap every time. Just TAP TO RAP, and the app does the rest!

As the lyrical master, Jay-Z, says "This is the death of Auto-Tune, moment of silence". This is AutoRap.
AutoRap features
Choose between talk or rap mode.
Pick your beat from freestyle or premium sounds.
Beautiful visualizations match the beat of your raps.
Don't like the beat, just re-AutoRap it!
Share your creations via email, Facebook and Twitter
Listen to the Top Rappers and support them with loves.
Come back frequently to earn additional plays.
AutoRap is free to download for iOS and Android. The app comes with two free songs and you can earn Freestyle and Premium Plays, or purchase in-app Play Packs.