Softube has announced the release of three new native Marshall plugins and Amp Room expansions.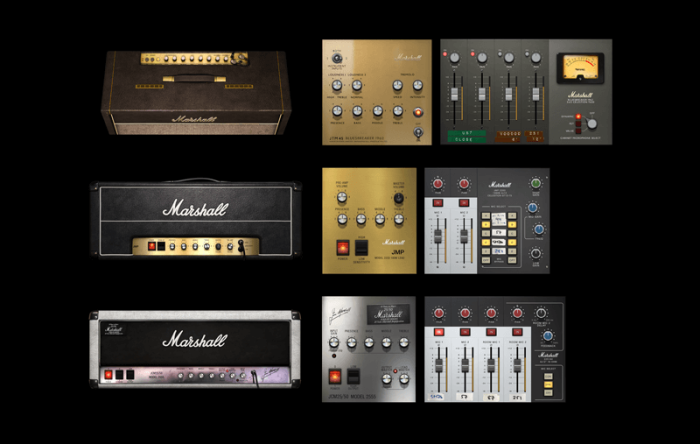 Three legendary Marshall amp sims are now available for the first time as native plug-ins and modules for our pro audio platform Amp Room: Bluesbreaker 1962, JMP 2203, and Silver Jubilee 2555.

The distinctive features of each of these amps were component modeled with the highest precision in partnership with Marshall for each plug-in. The speaker cabinets for each amp were recorded by Tony Platt, famous for having recorded with AC/DC. Choose the one that suits your sound the best or get them all for even more options.
Marshall Bluesbreaker 1962: The blues/rock guitar legend.
The amp section of the Bluesbreaker 1962 is warm and crunchy, and the use of alnico speakers in an open back cabinet adds an unusually chimey and three-dimensional sound for a Marshall, which has contributed to its status as a genuine workhorse far outside of the blues genre too.
Marshall JMP 2203: The quintessential rock amp.
The Marshall JMP 2203 amp has a master volume that makes it possible to get a distorted sound without the ear-splitting sound pressure levels.
By keeping the preamp gain down and getting most of the distortion from the power amp, you get more of a 1960s Marshall sound. By turning the master volume down and the preamp volume up, you get an edgier and more present distortion.
Marshall Silver Jubilee 2555: Back in silver.
The Silver Jubilee 2555 amp's innovative and unusual preamp section gives it higher gain and a somewhat darker and smoother sound. The EQ section sets the Silver Jubilee apart from other Marshall amps with its much wider range of tonal variety.
This power amp tubes that can be switched from their normal pentode operation mode into triode mode, makes the distortion silkier and less aggressive.
The amps are on sale for $99 USD / 99 EUR each from Softube and distributor Plugin Boutique until July 31st, 2020 (regular 149 USD/EUR).