Softube has announced availability of two new native Marshall-branded guitar amplifier plugins.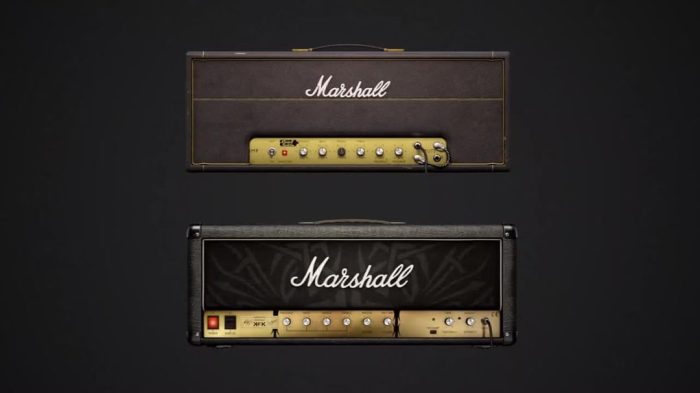 When you think guitar amplifiers, chances are you think Marshall. For many years Softube have partnered Marshall in all things software, and now two new native Marshall amplifier plug-ins are hitting the scene.

You'll love the realism, both sonic and visual. You'll love the flexibility, and the depth of the sound at any setting. Most of all, you'll love the way your music sounds through these epic setups.
Now available natively for the first time, the Marshall Plexi Super Lead 1959 was modeled on Marshall's own reference unit, a pristine 1967 amp from their museum.
To obtain the most authentic tone possible, the undisputed alpha dog of rock & roll amplifiers was combined with an era-appropriate 1960BHW 4×12" cabinet and recorded by legendary AC/DC engineer Tony Platt. A must-have amp for classic and modern tones alike.
The Plexi's design was essentially commissioned by Pete Townshend of The Who, looking for more power, volume, and grunt as true high-voltage rock began to explode in the mid '60s. Eric Clapton traded in his 'Bluesbreaker' combo for a Super Lead when he founded Cream in 1966. Jimi Hendrix, for goodness sake, played a Super Lead at Woodstock.

The first Marshall full stack was created for the Plexi. Initially, the super-powerful, 100-watt amp was paired with a huge 8×12 speaker cabinet, but soon the preference shifted to two 4x12s, one straight and one angled. It's hard to overstate how much of a cornerstone this amp is. Rock simply wouldn't look or sound the same without it.
Also available is Marshall Kerry King Signature, a model of an exact replica of Kerry King's signature guitar amplifier, the Marshall 2203KK, a.k.a. "The Beast".
Not only did Softube component-model the insanely powerful amplifier itself, right down to its KT88 power tubes and hand-wired circuit, but they also went into the studio and out on the road with Kerry, to capture cabinet responses and microphone combinations for both live and recording situations.
Thrash metal is visceral, energetic, aggressive. Getting the right depth and texture of sound, the right bite in the attack, the right snarl on the tail, is essential. You need an amp like a wild animal, like a fighter, like a beast.

Kerry King has spent four decades at the vanguard of the scene, blazing trails and busting guts with his edgy in-your-face sound, so naturally his signature amp – the custom Marshall 2203KK, a.k.a. "The Beast" – is the only place to start if you're after super high gain and punchy articulation in a single rig.
The plugins are available now from Softube and distributor Plugin Boutique at a 33% discount, priced $99 USD each until March 12th, 2020.