Softube has announced the release of two new products, a hi-fi saturation hidden gem and a new plugin that delivers vintage British console sounds.
The secret is out. We're thrilled to unveil Overstayer M-A-S. Find out why this harmonic shaper has a cult status among in-the-know pro mix engineers. And! The wait is over. The hotly anticipated British Class A plug-in is here. Now, you can get the British Console Sound all over the DAW.
Softube's Overstayer M-A-S plugins offer the same saturation and peak-bending capabilities as the hardware in two new, enhanced versions: the do-it-all guru M-A-S and the tone-sculpting Svengali M-A-S Extended.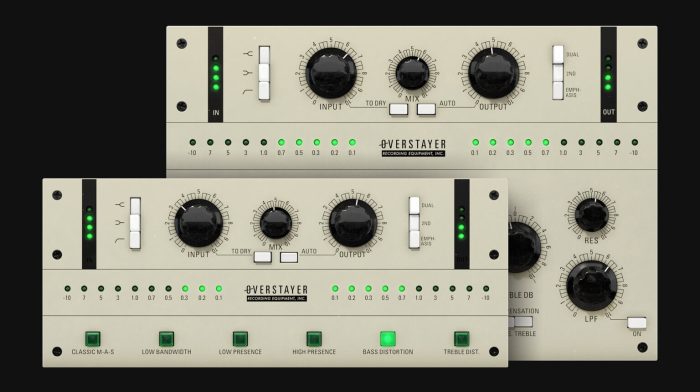 Masterfully modeled, the harmonic shaping duo is a professional mix engineer's secret weapon for adding energy to tracks, glueing buses, and enhancing mixes.
Overstayer M-A-S features
Two plugins for high fidelity saturation: M-A-S and M-A-S Extended.
Expertly component modelled after the M-A-S hardware unit.
Officially licensed and created in collaboration with Jeff Turzo and Overstayer .
A total of four versions included: M-A-S, M-A-S Extended, M-A-S for Amp Room, and M-A-S for Modular.
Added auto-compensated levels on the Input ("Auto Gain" and "To Dry").
Dual and 2ND modes for increased energy and coherence.
Five new emphasis types for the M-A-S plug-in make a total of six.
4-band fully flexible parametric emphasis EQ (2x Shelf, 2x Bell) for M-A-S Extended.
12 dB/octave resonant low and high-pass filters for M-A-S Extended.
Increases the apparent volume without compression timing artefacts, replacing the need for compression or limiting.
Overstayer M-A-S is available at an introductory price of $199 USD at Plugin Boutique until October 7th, 2021 (regular $249 USD).
The new British Class A is a channel strip that brings an authentic, unmistakable British console character to your DAW.
The precisely emulated channel strip has added flexibility and also comes with versions for Console 1, Amp Room, and Modular.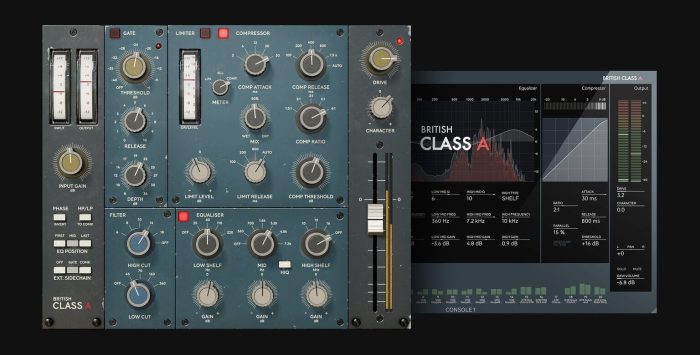 Softube modeled Gate, Compressor, EQ, Filters, and Drive on some of the most sought-after and costly console modules in existence using Softube's renowned emulation methodology. The result is the authentic tone and character of the classic British consoles with superb sound quality and four flexible formats: native plug-in, Console 1 channel strip, and Amp Room- and Modular modules. Jammy you.
British Class A features
The true color and character of the famous large-format British consoles of the '60s and '70s.
A channel strip with carefully modeled Gate, Compressor, Filters, EQ, and Drive.
Includes four multi-platform versions: British Class A plug-in, British Class A for Console 1, British Class A for Amp Room (4 Modules), and British Class A for Modular (4 Modules).
Featuring the famous 3-band equalizer with two silky smooth shelving filters and a peaking mid-band with high and low Q settings.
Slightly resonant filters that bring a unique character, added edge, and work perfectly with the EQ to recreate the famous curves this gear is known for.
Easily dial in the settings used to record and mix countless hit albums and songs.
Softube-quality emulation and sound.
The British Class A plugin is on sale for $99 USD during the introductory promotion. The regular price is $225 USD.
More information: Softube