Softube has announced a limited time sale on its reverb and delay effect plug-ins, and the Studio Collection.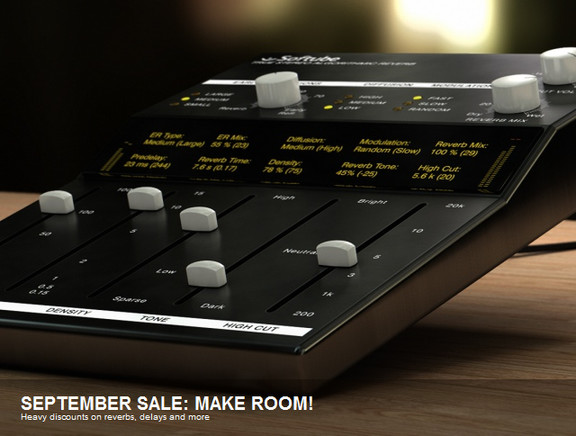 Until September 30, our TSAR-1 Reverb, TSAR-1R Reverb, Spring Reverb and Tube Delay will be 50% off here in our webshop and at all our dealers. The Reason RE equivalents of these plug-ins will be 30% off in the Propellerhead store.

But wait, there's more! How about we throw in a nice, big plug-in bundle as well? OK, you got it: Our Studio Collection is 30% off. The Studio Collection is a dealer exclusive bundle, which means it can not be bought from our own web shop, only from the authorized Softube dealers across the globe.
Furthermore, Softube has announced a strategic partnership with Marshall.
Marshall Amplification, the world's leading guitar amplifier manufacturer, today enters into partnership with Swedish software wizards, Softube. This partnership will see both companies apply their proven expertise by designing and making innovative guitar products that will excite and inspire.

This is more than a passing collaboration; it's a long term project with long term goals. Marshall and Softube already have several new products under development.
More information: Softube