Softube has released a new member of the Weiss Collection series audio effect plugins. Weiss Deess is a digital mastering de-esser featuring algorithms from the industry standard DS1-MK3.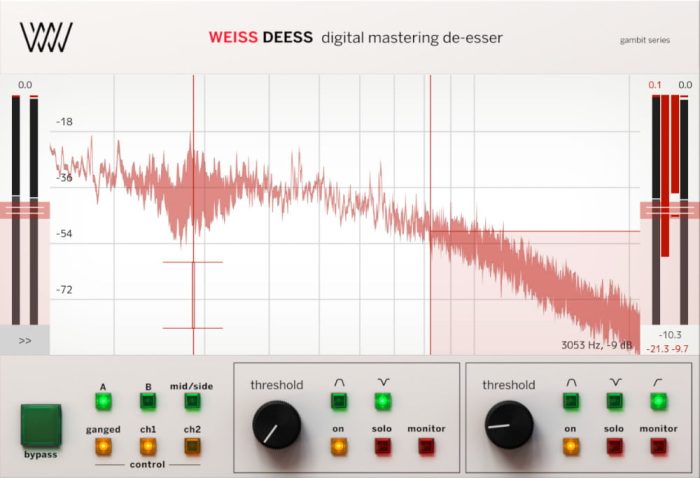 Whether you're trying to tame sibilance in a lead vocal, rein in a sharp-sounding hi-hat, or reduce harshness while mastering, a truly great de-esser is as elusive as it is essential. Enter the Weiss Deess, available as an individual plug-in or as part of the Weiss DS1-MK3 collection.

Most de-essers – even modern digital or plug-in units – lack versatility, user-friendliness, appropriate visualisation, or quite simply don't work like you hope they will.

With a combination of the highly-prized sonics of the industry gold-standard Weiss DS1-MK3 – the go-to digital hardware de-essing unit used in top mastering studios the world over – and a totally modern and focused approach in design, Softube is psyched to announce the Weiss Deess Plug-in. Stop searching, start succeeding – this is the de-esser.
Weiss Deess features
The best-sounding de-esser available, with code-ported algorithms from the industry standard DS1-MK3.
Two bands of de-essing. This is the only de-esser you'll need.
Stunning and intuitive visualisations make this de-esser a breeze to use.
Clean tweak-and-go faceplate, with immensely detailed controls hidden in side-menu.
Ultra-professional tool, but without the daunting, complex look.
Low-latency mode allows you to de-ess while tracking a vocal.
All the versatility you need in terms of filter shapes, frequencies etc.
Weiss Deess is available at an introductory 10% discount, priced at $179 USD ex. VAT until June 16th, 2018 (regular $199 USD). Weiss Deess is also included in the Weiss DS1-MK3 plugin.
Tube-Tech EQ & Compressor Mk II
Softube has also launched updated versions of its Tube-Tech plugins: the PE 1C 'Pultec' Program Equalizer, ME 1B Mid-Range Equalizer, CL 1B Optical Compressor and Classic Channel plugin.
The Mk II update comes with a new sound, new features, and totally fresh new hi-res graphics.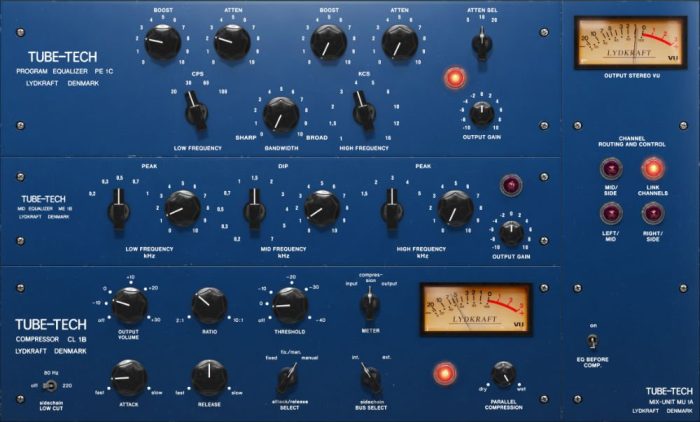 For the first time ever, the two EQs exist in a single plug-in GUI, giving the complete intended workflow immediately and intuitively.

The CL 1B Mk II compressor features new sidechain low-cut filtering, and a parallel blend knob.

On top of the new features in the CL 1B, the Classic Channel Mk II now has mid/side processing capabilities.
The updated Tube-Tech Mk II plugins are now available alongside its legacy versions in three new collections, which are on sale at up to 30% off for a limited time only.
The Weiss Deess and Tube-Tech Mk II plugins are available now from Softube and distributor Plugin Boutique.