Softube has announced the availability of the Weiss EQ1, a line-by-line code port boasting 1:1 accuracy of the pioneering original hardware, known as the standard of digital mastering EQs​.
The Weiss EQ1 plugin offers increased functionality of the original algorithms, plus 32-bit/192 kHz operation and updated ergonomics. It comes with easy manual recall of presets that sound and behave exactly like they do in the hardware​.
There's a reason Weiss Engineering's EQ1 has been at the top of the heap since its release in 1996. The EQ1's dazzling sonic qualities combined with its flexibility as either a Minimum Phase EQ, a Linear Phase EQ, or a Dynamic EQ have made it the must-have digital mastering equalizer. The Weiss EQ1 plug-in crystallizes that legacy—in software form.

Weiss Engineering's go-to hardware and Softube's workflow and ergonomic advancements combine here to stunning effect. A one-for-one, line-by-line code port of the original, the EQ1 plug-in is the latest and greatest addition to Softube's successful partnership with Weiss Engineering. EQ1 joins DS1-MK3, MM-1, and more out-of-this-world Weiss + Softube products to prove that Swiss and Swedish engineering make a stellar pair.
Weiss EQ1 features
A line-by-line code port of the original Weiss EQ1, the standard-bearer of digital mastering EQs and a must-have for mastering houses worldwide.
A surgical Minimum Phase EQ, a true Linear Phase EQ, and a Dynamic EQ—all in one.
7 full-range bands with -39 to +18 db Cut/Boost range.
Threshold, Attack, Release and Ratio parameters available on individual bands in Dynamic Advanced Mode.
Operates in Minimum Phase, Linear Phase, Dynamic and Dynamic Advanced Modes.
High and Low Cut, High and Low Shelving and Peaking Incredible Q-Range of 0.2 to 650 M/S Processing, Solo/bypass individual bands and Link Channels 4 user interface layouts Up to 192kHz sample rates and, with 64-Bit internal processing.
Workflow and ergonomic advancements with four adaptable user interfaces.
Created in collaboration with—and endorsed by—Weiss Engineering.
The Weiss EQ1 is on sale for the intro price of 499 USD/EUR at Plugin Boutique until June 5th, 2020 (regular USD/549 EUR).
The new Weiss Gambit Series for Console 1 combines core processing elements from Weiss DS1-MK3 and Weiss EQ1 into a knockout channel strip.
It's here. One of the most highly requested components for Console 1 makes its debut. Introducing the Weiss Gambit Series for Console 1. A painstaking extraction of the top features from two of the most admired digital processors, Weiss DS1-MK3 and Weiss EQ1—plus characteristic extras—the result is the clean, sharp channel strip engineers everywhere have been waiting for.

Joining a storied slew of offerings in the successful partnership of Softube and Weiss Engineering, Weiss Gambit Series gives you the algorithms of the originals. But it also sports exclusive, high-end features such as below-threshold compression. Weiss Gambit Series channel strip for Console 1: created for mastering, now tailor-made for mixing.
Gambit Series for Console 1 features
A neat and clean channel strip based on 1:1 code ports of the Weiss DS1-MK3 and EQ1.
Created in partnership with—and officially licensed by—Weiss Engineering.
Fresh, new sound for the Console 1 ecosystem.
Added functionality and features.
Thoroughly unique below-threshold compression.
The channel strip is on sale for 169 USD/EUR (regular 299 USD/EUR).
Furthermore, the new Weiss Complete Collection has been launched.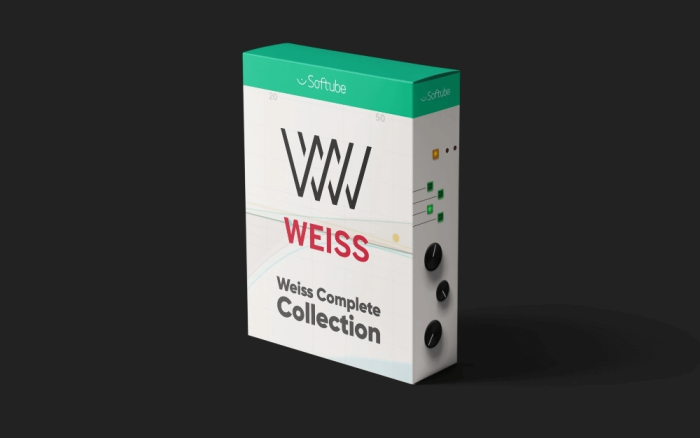 The bundle comprises a curated collection of 6 crucial plugins: DS1-MK3, MM-1, Compressor/Limiter, Deess, EQ1, and Gambit Series channel strip for Console 1.
Weiss Complete Collection is 820 USD/EUR during the promotion (regular 999 USD/EUR).
More information: Softube