Softube has updated its Console 1 to version 2.1.45, including the new Solid State Logic XL 9000 K channel strip.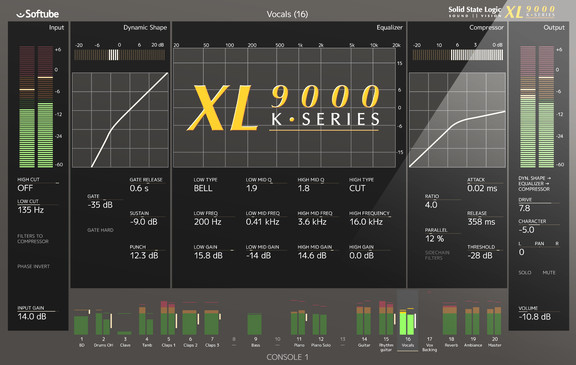 We are proud to announce the release of the new software update for Console 1. It does not only entail the new channel strip Solid State Logic XL 9000 K-Series for Console 1, but also big improvements for all Console 1 owners. A 20 day demo license can be downloaded for evaluation purposes. The update also adds Mac OSX 10.10 Yosemite support for all Softube's plug-ins.
Changes in version 2.1.45
Added features to Console 1

New channel strip, Solid State Logic XL 9000 K-Series for Console 1, now available for demo/purchase.
Added Rearrange Tracks functionality, for DAW hosts that do not support automatic transfer of track number.
Presets can now be organized in user-created folders.
Default presets can be stored, which will be loaded any time a certain channel strip or plug-in is instantiated.
Added gain reduction meters to the meter bridge.
Valley People Dyna-mite can now be loaded into the Shape section (in addition to the Compressor section as previous) and used in its gate mode.
Added Auto Solo functionality when rearranging or naming/renaming tracks.
Solo is indicated by flashing Mute on other tracks.
A bypassed section becomes automatically enabled if a parameter is adjusted.
Auto Display time (the time it takes for the On-Screen Display to disappear after the last performed adjustment) can be determined by user.
In Auto Display mode, the On-Screen Display is triggered by all knobs and buttons.
Added center logo to Solid State Logic SL 4000 E.
Minor change to the All Tracks dialog.

Bug fixes

Fixed connection issues (MIDI conflicts), experienced by a handful of users.
Fixed issue with Console 1 buttons not responding at certain times.
Fixed issue with Console 1 temporarily freezing while moving tracks in Cubase 7.5.
Console 1 On-Screen Display settings are now saved correctly when shutting down Windows.
Fixed rare crash related to using both Console 1 VST2 and VST3 on Windows.
Fixed rare crash when closing Cubase projects, using Console 1 on Windows.
Fixed bug which prevented more than 64 instances of Console 1 to be created on Windows.
Console 1 is available for purchase for $1,149 USD.