The Softube Trident A-Range is an exact model of the legendary characteristic equalizer from the A-Range consoles, of which only thirteen were ever made.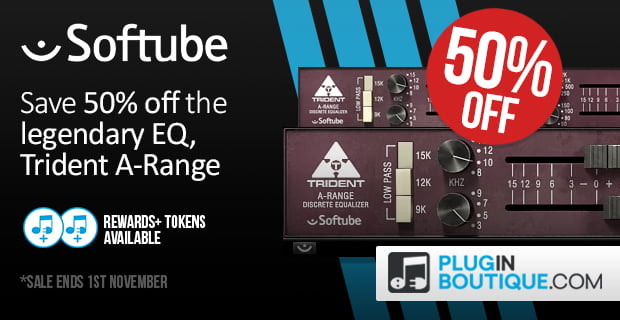 The plugin models channel 15 of the Trident A-Range at Sweet Silence Studio 'B' in Denmark, producer Flemming Rasmussen's favorite channel for recording lead vocals.
Flemming also used it for the solo and rhythm guitars on Metallica's "Ride The Lightning" and "Master of Puppets", as well as Ritchie Blackmore's guitar on the Rainbow albums "Difficult to Cure" and "Bent out of Shape".
The A-Range channel features four bands of equalization plus high and low pass filters.

By driving the console hot, it is possible to get it to distort with a hairy and effective saturation that is just right in some situations, and just wrong in others!

We added a separate Saturation control to let you choose easily. Turn it down for clean (and less CPU draw), and up for the sound of a Trident A-Range hard at work.
Trident A-Range features
EQ with a will of its own.
Created together with original designer Professor Malcolm Toft.
Each and every component carefully modeled.
Saturation control.
Very CPU friendly.
The Trident A-Range plugin is available for Windows and Mac (VST/AU/AAX). It is 50% off at Plugin Boutique until November 1st, 2017.
More information: Plugin Boutique / Softube Trident A-Range