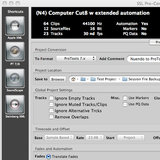 Solid State Logic has announced the forthcoming release of Pro-Convert v5.5 for Mac.
The release of Pro-convert for the Mac computer platform brings the freedom to exchange projects between DAWs to a wider user base and introduces a new user interface for the application.
Pro-Convert enables workstation users to convert session files from one format to another. The new Mac version supports several of the most popular workstation formats: ProTools 7.x, Cubase/Nuendo, Logic, Final Cut Pro and SSL's own Soundscape.
The Mac version also sees the introduction of a new user interface that will be made available to Windows users in autumn 2009. The new interface presents a single control window from which all project settings can be manipulated. The new interface provides identical functionality to the Windows version of Pro-Convert but streamlines the user experience and facilitates the ability to save conversion presets that enable users to return to frequently used project configurations quickly and efficiently, according to SSL.
Pro-Convert for Mac will be available from May 2009 for 499 EUR / $699 USD.
Visit Solid State Logic for more information.