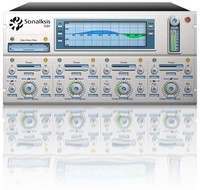 Sonalksis has announced a Scorching Summer Promotion, a chance to get Sonalksis multi-band dynamics plug-ins at great discounts.
Our Multi-band Dynamics plug-ins are totally unique. Based on the principle of 'Dynamic EQ', they allow you to sculpt your mixes with maximum precision. For a limited period, Sonalksis is offering our Multi-band Dynamics plug-ins with a massive discount of almost 70%.
Scorching Summer Promotion
CQ1 Multi-Band Compander — a multi-band frequency-selective dynamics processor, allowing independent compression or expansion of four freely adjustable filter bands. Unlike typical multi-band compressors that are designed primarily to master composite program material, the CQ1 uses the principle of 'dynamic equalisation' and is therefore suitable for a much broader range of applications.
DQ1 Dynamic Equaliser — an extremely versatile processing tool that can be used for precision sculpting, creative moulding, ambient enhancement or restoration – maintaining the same unparalleled audio quality expected from Sonalksis products and making the DQ1 a unique and indispensable addition to any audio processing toolbox.
CQ1 Multi-Band Compander and DQ1 Dynamic Equaliser are available for Windows and Mac (VST/DX/AU/RTAS) in a bundle for $149.99 USD / 109.99 EUR (regular price $449.99 USD / 359.99 EUR), or separately for $99.99 USD / 79.99 EUR each (regular price $279.99 USD / 229.99 EUR).
More information: Sonalksis