Sonible has recently released frei:raum, an equalizer effect plug-in for Windows and Mac that features three different interaction layers for different audio processing tasks.
The core of the plug-in is a fully interactive equalizer with a quite special feature: Each band can either be used in "classical" mode (for manual EQing), or in "smart" mode, offering automatic detection and removal of problematic resonances and notches in different frequency bands.

The proximity EQ allows to independently adjust the ratio between direct sound and reverb components of a signal in different frequency bands. This way, components degrading the transparency of a track can be removed without any impact on the overall frequency leveling.

The entropy EQ provides the opportunity to freely adjust the tonal characteristics of your sound at any given frequency by separating harmonic components (e.g. sustained notes) from inharmonic parts (e.g. picking sounds).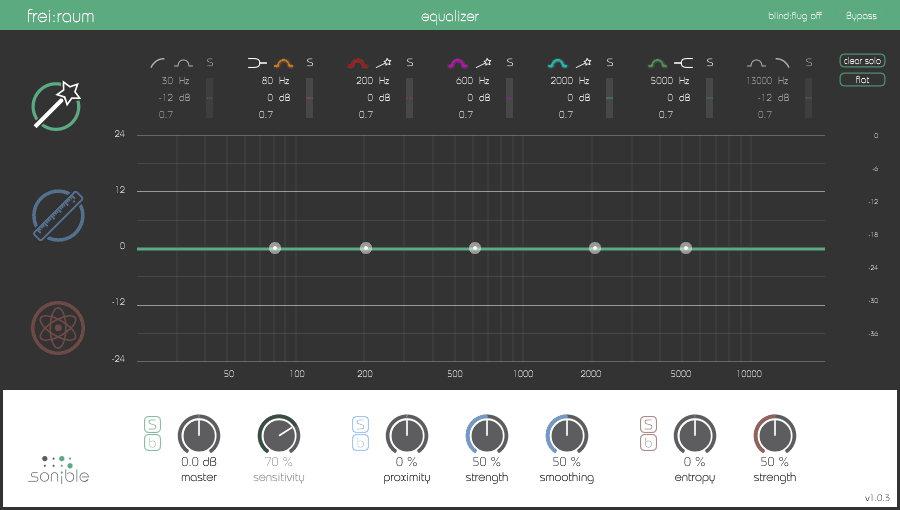 frei:raum features
Interactive EQ with 3 unique smart bands for quick EQing.
Frequency dependent control of direct sound and reverb.
Frequency dependent control of tonal and inharmonc components.
All processing stages operate fully parallel and in real-time.
No phase distortions, even with critical settings.
Small meter indicator to individually monitor each band.
frei:raum for Windows and Mac (VST/AU/AAX) is available for purchase for 399.90 EUR.