Sonible has announced the launch of its Spring Sale, offering discounts of up to 50% off regular on its plugins and bundles.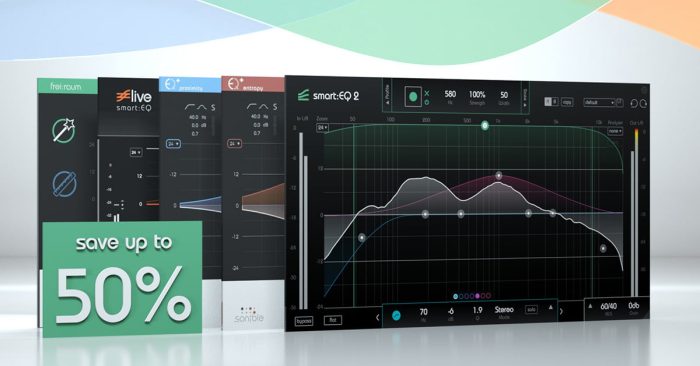 Hibernation is over! Let the sunshine, birds' twittering and flowers in bloom inspire you. Use that spring energy to create fresh sounds with our plug-ins and save up to 50%.

It's never too early to get your mixes into shape for summer hit season. Now is your chance to gear up on great plug-ins to get creative and productive.
The following plugins are on sale:
smartEQ 2: 69 USD/EUR (regular 129 USD/EUR)
Groundbreaking A.I. Technology: smart:EQ 2 analyzes your audio material and generates a custom filter curve to create a natural sounding tonal balance.
smart:EQ live: 129 USD/EUR (regular 229 USD/EUR)
Perfect your live workflow with smart:EQ live. The real-time mixing assistant helps you to concentrate on what's important and to creatively focus on the main event.
entropyEQ: 69 USD/EUR (regular 129 USD/EUR)
entropy:EQ+ simplifies the post-production of harmonic and noise components of audio recordings – freely adjustable and within seconds.
proximityEQ: 69 USD/EUR (regular 129 USD/EUR)
proximity:EQ+ opens new possibilities for amending detrimental room modes in post-production while leaving the direct sound untouched.
Special EQ Bundle: 149 USD/EUR (regular 289 USD/EUR)
Too many tempting plug-ins? With the Special EQ Bundle you get smart:EQ 2, proximity:EQ+ and entropy:EQ+ for an unbeatable prize.
Frei:raum: 129 USD/EUR (regular 279 USD/EUR)
frei:raum offers three layers in one plug-in: It contains the three unique tools smart:EQ, proximity:EQ and entropy:EQ.
Sonible's plugins are on sale at distributor Plugin Boutique and from the Sonible online shop. The offer expires April 28th, 2019.