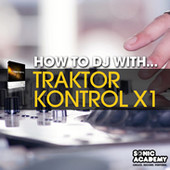 Loopmasters has released How To DJ With Traktor Kontrol X1, a video tutorial series by Sonic Academy.
How To DJ With Traktor Kontrol X1 features
Tutorial 1 – Browser – This lesson gives you a tour of the Kontrol X1 browser, so you'll never be at a loss for finding your way around the equipment.
Tutorial 2 – Transport – Sonic provides the know-how you need to use Kontrol X1's transport system, lining up all the beat, cue and sync functions.
Tutorial 3 – Looping – Adding and manipulating loops has never been easier than with the Kontrol X1, and Sonic's pro will show you how.
Tutorial 4 – Hot Cues Part 1 – Kontrol X1's got 16 buttons dedicated to controlling the hot cues (you can use 8 per track). Sonic Academy starts off by teaching you how to set up your own hot cues.
Tutorial 5 – Hot Cues Part 2 – Lets now get creative with our hot cues and hot loops, remixing live, right out of the box.
Tutorial 6 – FX – With 8 buttons to command effects (4 for each effect unit), you'll have loads of options, and Sonic Academy shows you how to keep your reverbs and delays in line.
Tutorial 7 – Advanced Mode – Lets now look at Traktor's effects chained mode and assigning these to the decks. Chained mode lets you add multiple effects all in a row to create some crazy combinations.
How To DJ With Traktor Kontrol X1 is available to purchase for £14.95 GBP.
More information: Loopmasters / Sonic Academy