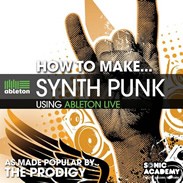 Loopmasters has released How To Make Synth Punk Using Ableton Live, a video tutorial series by Sonic Academy.
Using Ableton Live, we show you how to make sounds and tracks in a style similar to acts such as The Prodigy. This series of nine video tutorials, covers everything you need to know to start cranking out the bass heavy, electro breaks tunes!
How To Make Synth Punk Using Ableton Live features
Introduction – Phil Johnston introduces his creation for this 'How to Sound Like' tutorial.
Tutorial 1 – Drums – In this module, Phil takes us through loading the drums into the impulse drum machine.
Tutorial 2 – Bass – Calling on the old fav the Sylenth, we programme in the dirtiest bass we can.
Tutorial 3 – Lead – Distortion, acid, we got it all here for the lead sound.
Tutorial 4 – Drum Fills – Loading a fill sample and slicing, dicing and chopping to create the fill we want.
Tutorial 5 – Breakdown – Glow sticks set to stun, time to insert the Ravey stab.
Tutorial 6 – Vocals – A London accent is essential, and a big fat distortion for that all important vocal.
Tutorial 7 – Lead 2 – Get that resonator working baby, for the second lead sound.
Tutorial 8 – Arrangement – Build the basic arrangement using scenes within Ableton, then move onto to tweek further in arrange mode.
How To Make Synth Punk Using Ableton Live (requires Ableton Live 8) is available to purchase for £24.95 GBP.
More information: Loopmasters / How To Make Synth Punk Using Ableton Live