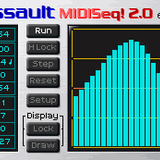 Sonic Assault has released version 2.0 of 64-Step MIDI Data Sequencer MIDISeq! and version 1.1 of MIDIMod!, two free effect plug-in for Windows.
MIDISeq! v2.0 features
User Selectable 2-64 Step Sequencer.
Draw and Single Step editing.
Step / Interpolation control.
All Step Randomise.
Host Locked / Free Run operation.
Scalable MIDI Output.
Normal Loop / Sync Reset / Single Step / Triggered Single Sequence modes.
User selectable MIDI Channel / Note / CC input triggering.
Manual BPM Override.
Data Output Reduction.
MIDI Thru Channel Router.
Global MIDI Reset.
User Assignable Automation capability.
MIDIMod! version 1.1 has been internally redesigned due to MIDIMod! 1.0 suffering from the now infamous SE1.0 regional language bug.
MIDISeq! and MIDIMod! are available to download as freeware VST effect plug-ins for Windows PC.
Visit Sonic Assault for more information.