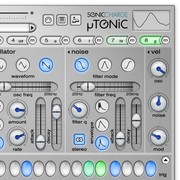 Sonic Charge has released version 3.0.1 of µTonic, a virtual drum and percussion synthesizer instrument for Windows and Mac.
You can use µTonic as a sound module to play drum sounds from your MIDI keyboard or sequencer, or you can use the built-in pattern engine to play drum patterns in sync with your sequencer. The sound of µTonic is 100% synthetic and rendered in real-time. No samples or pre-rendered waveforms are used.
Changes in µTonic v3.0.1
Fixed a problem in the AU version when loading version 2 projects that could make µTonic use the wrong program number.
Fixed a problem with clicks in exported audio when using the "Append" tail mode.
Fixed a rare timing drift problem between GUI and audio when using certain audio cards.
Solved a compatibility problem with the Windows version of Nuendo that froze the application when using copy functions in µTonic.
Eliminated some almost inaudible but unwanted aliasing in the sine oscillator.
µTonic now displays a special message when attempting to register with a version 1 or 2 key.
Code is PPC G4 compatible again (just as version 2 was).
Updated scripting engine.
µTonic for Windows and Mac (AU/VST) is available to purchase for $99 USD + VAT.
Sonic Charge has also announced the launch of a community forum, and the release of documentation on the scripting engine, including a zip package containing a few interesting scripts to start off (available from the forum).
More information: Sonic Charge / µTonic