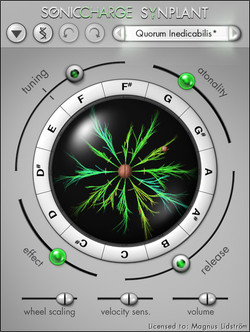 Sonic Charge has released version 1.2 of Synplant, a synthesizer instrument for Windows and Mac.
We decided that we could not not let you wait any longer for 64-bit compatibility so we took a lot of the new code from Synplant 2.0 and "merged" it back into 1.0.

Version 1.2 looks, sounds and behaves virtually identical to 1.0, although under the hood it uses our latest framework and libraries.

Apart from 64-bit compatibility and general performance improvements that come the new libraries, Synplant 1.2 also supports Authenticator for simpler registration.
Synplant for Windows and Mac (VST/AU) is available for purchase for $99 USD (+ VAT).
Sonic Charge also announced Cassette Recorder Audio Processor (CRAPRE), a Rack Extension effect for Propellerhead Reason.

In other news, yesterday (April 1st) saw the launch of a new Rack Extension for Reason that I co-developed with PEFF and Bitplant. It is a Cassette Recorder Audio Processor Rack Extension (CRAPRE for short) and it makes such dirty noises you will need protective gloves to handle it.

A lot of people thought it was an April Fools joke and that it was not for real, but it is, which in itself is an even better joke I guess. It is only available for sale during April after which it will be removed from the Propellerhead Shop (again for real!). Don't miss out on it!
Crapre costs 7.50 EUR.
More information: Sonic Charge