Plugin Boutique has launched a sale on Sonic Faction Clone, offering the synthesizer instrument for Ableton Live for just £1 GBP/$1 USD for a limited time.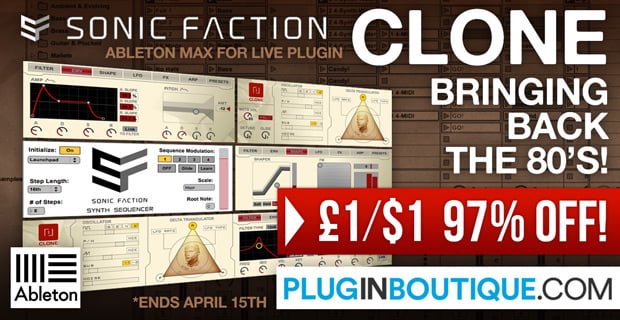 We have teamed up with our friends at Sonic Faction to bring you their fantastic SH-101 emulation for Ableton: Clone MEGA SALE! Save 97% off exclusively at Plugin Boutique for a limited time only!
Clone features
Wicked 80's replica – Clone has been completely reengineered for self-aware sound.
Analog DNA – Known for its distinct analog tone and modulation capabilities, this quintessential 80's synth will give your production a whole new flavor.
Modulate your mind – Mutate sounds to a higher frequency with the Delta Triangulator. Unleash Clone on Ableton with wild filter LFO's and bombastic pitch envelopes.
Go beyond – Deviously manipulate sounds with built-in wave shaping, FM and effects. Sequence your sonic genome with built-in double arpeggiators.
Sequencer included – Clone includes a free Max for Live synth step sequencer for Push, APC40 and Launchpad. Use Synth Sequencer and for hands-on control of your sound.
Clone for Ableton Live 9.2 Suite And Max For Live 7 is just £1 GBP/$1 USD until April 15th, 2017.
During the sale, users of Sonic Faction products can upgrade to the Archetype Ableton Bundle at a 33% discount.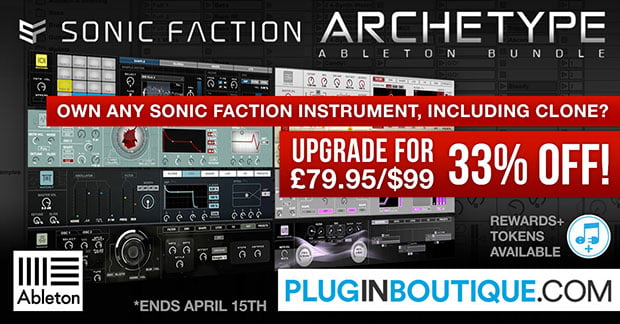 Any current users of a Sonic Faction product (inc Clone users) can take advantage of this Upgrade offer to the Archetype Ableton Bundle and save 33% off.

The Archetype Bundle is an incredible collection of creative Instruments, Effects and Sequencers for Ableton. Upgrade exclusively at Plugin Boutique!
Archetype Ableton Bundle features
8 Instruments, Endless Sonic Possibilities.
Custom-Designed User Interfaces. Experience Ableton like never before.
New Levels of Intuitive Control, Sound Morphing & Tweakability.
Highly sought-after vintage & modern electronic instruments, re-imagined for Live.
Stunning user-interfaces that focus on ease of use and maximum sound sculpting.
A hybrid design approach that combines Max and Ableton devices for the best of both worlds.
Interactively designed dials and immersive interfaces.
Internal preset system for ultra-fast switching and powerful preset morphing.
Tight integration with Push and other Ableton controllers.
The Archetype Ableton Bundle upgrade is £79.95 GBP/$99 USD until April 15th.
More information: Plugin Boutique / Sonic Faction