Sonic Faction has release Dope Matrix Mod Squad, a collection of 20 enigmatic modular devices for Ableton and Max for Live.
The pack includes euro-rack inspired analog & digital oscillators, an emporium of boutique effects, mappable modulators and a Control Matrix Sequencer for hands-on control via the Push and Launchpad grid.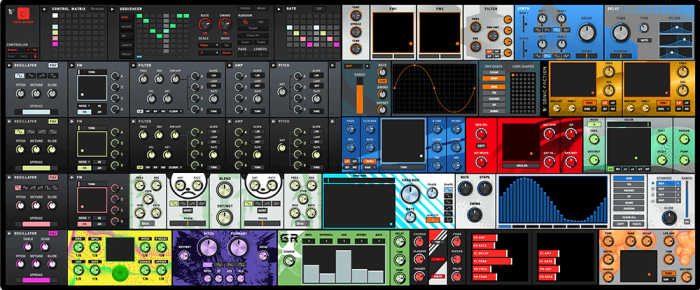 Dope Matrix MOD SQUAD includes completely reimagined modular analog and wavetable oscillators; each with its own dedicated filters, envelopes, FM and LFOs. New additions to the synth lineup include the Lithium feedback synth and Freak Mod FM randomizer.

Dope Matrix MOD SQUAD comes with a plethora of boutique modular effects, ranging from modulated bucket delays and resonating reverbs to thrashing distortions and glitchy sound manglers. Chain them together to create hyper-dimensional soundscapes.

Dope Matrix MOD SQUAD is all about modulation so we included 2 incredible new modulation tools that can be assigned to any parameter in Live. Curvature draws in custom curves for freaky automation and Super Slider takes step-modulation to new heights.

The included Dope Sequencer features a Control Matrix which allows for hands-on navigation to any device in your rack via Push 1&2 or Launchpad Pro/Mkii. Evoke new sonic vistas with its full-featured pattern generator and unique channel Gate sequencer.
Dope Matrix Mod Squad is available from Plugin Boutique for $69 USD. Owners of the previous version of Dope Matrix can upgrade for $29 USD.
More information: Sonic Faction / Dope Matrix Mod Squad