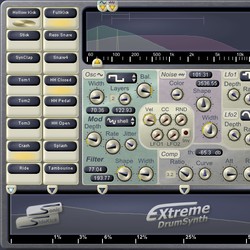 Sonic Sidekick has released version 1.1.0 of Extreme DrumSynth, a VST drum synthesizer for Windows PC.
The idea behind Extreme DrumSynth is that most percussion sounds can be modelled using a combination of resonant frequencies and noise. In general you will use the oscillator section to model the resonant frequencies.
Changes in Extreme DrumSynth v1.1.0
Added support for note name info.
Added support for drag and drop pad copy.
Added Several new distortion curves.
Added a new noise algorithm.
Extreme DrumSynth is available as a VST instrument for Windows PC, for the introductory price of $35 USD until June 1st, 2009 (regular price is $60 USD).
Visit Sonic Sidekick for more information.