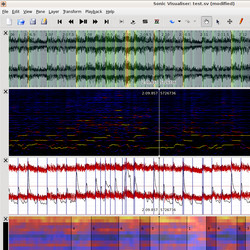 The Sonic Visualiser application for viewing and analysing the contents of music audio files, has been updated to version 2.3.
The aim of Sonic Visualiser is to be the first program you reach for when want to study a musical recording rather than simply listen to it.

We hope Sonic Visualiser will be of particular interest to musicologists, archivists, signal-processing researchers and anyone else looking for a friendly way to take a look at what lies inside the audio file.
Changes in Sonic Visualiser v2.3
Add a startup welcome dialog that also explains what SV makes network connections for and allows user to forbid them.
Add "Export Audio Data" feature.
Show piano keyboard scale in note and time-value layers as well as spectrogram, where vertical scale is log Hz; also show numerical scale in note and region layers when not auto-aligned.
Speed up CSV file import and avoid showing crazily wide window for CSV file format dialog when file has lots of columns.
Fix incorrectly saved window geometry when exiting from maximised state.
Reduce number of timer wakeups when idle.
Add American English translation and make choice of translation into a preference (defaulting to system locale).
Permit installation to non-default location with Windows installer build.
Sonic Visualiser is available to download for Windows, Mac, and Linux.
More information: Sonic Visualiser