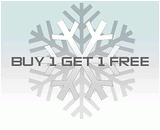 Soniccouture has announced a Buy 1 Get 1 Free Christmas Offer.
Buy any SC download product before 23rd Dec and claim 1 free for every product purchased.
To take advantage of this offer you simply checkout as usual and you will receive email instructions on how to claim your free product(s) of equal or lesser value with your download links (Applies to downloads only).
Looks like a sweet deal to me. If you're going for instruments like the recently released Guzheng you could get the Bowed Piano or Hang Drum for free — a ~$70 USD gift!
Visit Soniccouture for more information.