One can never have enough drums and percussion sounds, right? If you're looking to expand your library check the recent titles below.

Soniccouture Konkrete2
Konkrete2 offers 25 totally unique drum kits, each offering something very different, each with its own sonic flavour. (Live recordings, dirty old analogue synths, circuit-bent hi-fi equipment, obscure academic software algorithims, unusual acoustic spaces)
Created at 24 bit resolution throughout, Konkrete 2 builds and improves on the highly acclaimed Konkrete Drums. The kits are bigger, at a full 61 keys, and now velocity layering is employed on certain sounds for added detail and control. The sonic range is vast, from booming subsonic kick drums to crunchy snares with tons of bite and shimmering, shifting percussion with an incredible high-end. Konkrete2 has been expertly programmed for a variety of formats : Kontakt 2, Battery 2 + 3, HALion, Reason NN-XT, and Logic EXS24.
Features
25 Drum Kits
61 Keys per Kit
1600 24 bit Samples
KSP Glitch Machine (Kontakt2 Only)
Check Soniccouture for more information.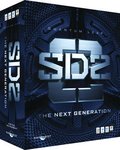 Quantum Leap SD2 – The Next Generation
SD2 – The Next Generation, the sequel to StormDrum, is a collection of exceptional acoustic percussion instruments totalling approximately 10 gigabytes recorded with vintage Neumann microphones in the EastWest Studio 1.
Instruments include:
Tibetan, Indian and Chinese Bells and Gongs
Indonesian Hand Drums
Anklung
Udu
Chinese Bowl Drums
5 ft. O Daiko
Earthquake Ensemble
Sound Design Percussion
Devil Chasers
Whale Drum
Giant Log Drums
The biggest floor tom on earth, specifically built for this project by Remo
Instead of loops, this collection delivers MIDI performances created with Roland V-Drums and Zendrum percussion controllers to allow you to change anything, with absolutely no sound degradation.
Check Sounds Online for more information and sound demos.
Toontrack The Nashville EZX
The fourth expansion pack for EZdrummer was recently announced: The Nashville EZX.
The Nashville EZX takes the traditional country heart of Nashville as a starting point but branches out to become something bigger. A library of percussive sounds that will appeal to musicians, writers and producers in every musical genre in need of EZ access to great drums. The EZX has a big sound and comes played with sticks, brushes and hands and mirrors the melting pot of writers, performers and producers from Hip-hop to Bluegrass that is the Nashville music scene of today.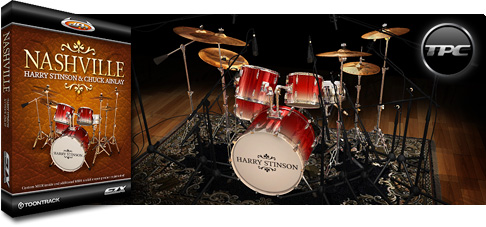 The sounds in this expansion pack were played by Harry Stinson, a Grammy nominated drummer and award winning producer, writer, and singer and Chuck Ainlay, a Grammy winning Producer/Engineer with a mind blowing track record, was (together with Mattias Eklund and Brad Bowden) responsible for the recording, engineering and mixing, done at the Sound Kitchen.
The Nashville EZX expansion pack will be released in the end of April.

Andy Johns Classic Drums (BFD)
Platinum Samples' Andy Johns Classic Drums BFD Compatible Expansion Pack is an amazing 65 GB library of drums played by Andy Johns.
Recorded in one of LA's greatest rock drum rooms using a classic Neve 80 series console and through the electronics of a Studer 800 24 track tape machine, the Classic Drums expansion pack truly demonstrates why Andy has achieved legendary status. Using no compression and only the console preamps and EQ's, and with each drum meticulously tuned by Andy himself — the drums recorded in the Classic Drums expansion pack exhibit why the albums Andy has engineered and produced have sold over 150 million copies.
Andy didn't use preassembled kits, but rather chose his favourite pieces to create different drum kits for his expansion pack. Check here for the kit listing.
Visit Platinum Samples for more information and sound demos.