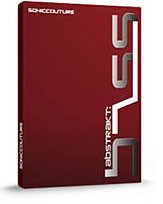 Soniccouture has announced a no-brainer promotion for Abstrakt Bass, a bass library for Native Instruments Kontakt.
Abstrakt Bass, one of our more ambitious products, is to be discontinued next month, on 20th September.

Why? it's a cool product, you say. Well, you're right, it's very nice. The problem is that we're updating some of our older products to keep things fresh, and this one is really, really hard to update. This is because each kontakt instrument was built individually, in the early days of scripting! So, to update it, we'd kind of have to start again from scratch. And we'd rather make new products than do that.

So, long story short, it's going. Maybe some of the sample data will turn up in something else one day, but for now, it's the end of the line.

If you want 140 different bass instruments, from big saws to some killer electric dub-basses, it's now only $15 / €10. Pick it up now before it's gone.
More information: Soniccouture