Soniccouture has released Professional, Composers and Compact Editions of Balinese Gamelan, a sampled instrument for Kontakt (+ Ableton Live 7 and Logic EXS24 for the Compact Edition).
Sampling the unique, magical sound of a Balinese Gamelan is no small undertaking. The 25 instruments that make up The LSO's Semara Dana Gamelan Ensemble had to be recorded in great detail, as if each were to be a sample library in its own right. Any compromise in the number of velocity layers or the round robin alternate samples could result in the whole living, breathing sound losing realism and dynamic expression.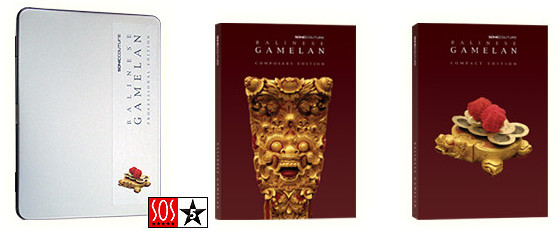 Balinese Gamelan features
Professional Edition

24GB Library – 24Bit 96KHZ Stereo Sampling
25 individual Gamelan Instruments
Up to 20 Velocity Layers
Over 4000 Samples
Multiple Round Robin Layers
Original and Concert Pitch Tunings
Kontakt 2 + 3 Format
Full Colour Booklet + Metal Case

Composers Edition — contains all the same instruments, the same number of velocity layers and alternate samples as the Professional Edition, but the samples are at 24bit 48KHz instead of 96Khz and are in Mono instead of Stereo. This reduces the size to 5.7GB of data, and comes on one DVD instead of 3. The full colour booklet is also included (no download version).
Compact Edition – download only

2 GB Library – 24Bit 48KHZ Mono Sampling
All the essential tuned Gamelan instruments:

Core Instruments (Combination of Gongs, Jegog, Calung, Penyacah)
Gangsa (Combination of Ugal, Pemade, Kantilan)
Kettle Gongs (Combination of Trompong and Reyong)

Up to 10 Velocity Layers
Over 800 Samples
Original and Concert Pitch Tunings
Kontakt 2 + 3, Ableton Live 7, Logic EXS24 Format
Check this page for details on these different versions.
Balinese Gamelan is now available for purchase, starting at 49 GBP for the Compact Edition, 99 GBP for the Composers Edition and 199 GBP for the Professional Edition.
Visit Soniccouture for more information and audio demos.