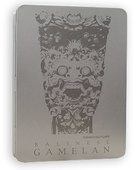 Soniccouture has released Balinese Gamelan, the previously announced 24GB Balinese Gamelan Library for Kontakt.
Sampling the unique, magical sound of a Balinese Gamelan is no small undertaking. The 25 instruments that make up The LSO's Semara Dana Gamelan Ensemble had to be recorded in great detail, as if each were to be a sample library in its own right. Any compromise in the number of velocity layers or the round robin alternate samples could result in the whole living, breathing, sound losing realism and dynamic expression.
All instruments were recorded in stereo, at 24 bit 96 khz to ensure a pristine recording of the very highest standard that will remain the benchmark for years to come.
Balinese Gamelam is available on 3 DVD's in a Limited Edition Metal Box for GBP 255 ex VAT / 299 EUR inc VAT (E.U. Customers only).
Visit Soniccouture's Balinese Gamelan mini-site for detailed information.