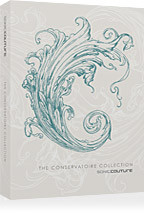 Soniccouture, in conjunction with The Birmingham Conservatoire, has announced The Conservatoire Collection, a completely unique collection of 10 different baroque, renaissance and early musical instruments.
The collection centres around two magnificent reproduction harpsichords, and also features guitars, theorbos and a hurdy gurdy.

These beautiful new instruments bring the soundscape of our musical past to life, showing us how incredibly diverse our modern instruments' predecessors were. We are now able to enter into our musical heritage more faithfully, and the new palette of sounds available offers fresh inspiration for composers today.
The Conservatoire Collection features
23 GB core sample library ( 9 GB on disc with NCW lossless compression).
24 bit 96 khz stereo sampling.
10 Kontakt Player instruments: French Harpsichord, Flemish Harpsichord, Theorbo, English Theorbo, Baroque Guitar, Psaltery, Baroque Timpani, Renaissance Side Drums, Nakers, Hurdy Gurdy.
Up to 10 velocity layers, 3 alternate Round Robin layers.
Key-off samples and multiple articulations according to instrument.
Real time hand postion control for guitar instruments.
Custom Convolution Reverb Impulse response library.
User selectable scales and tuning control for all pitched instruments.
The Conservatoire Collection is available at an introductory price of €179 EUR / $219 USD until Sept 16, 2011. Use coupon code OVD069KVPK at checkout to take advantage of this offer.
More information: Soniccouture / The Conservatoire Collection