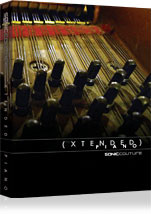 Soniccouture has released (Xtended) Piano, a collection of 5 Kontakt Player instruments.
"Extended" is a term usually used to describe unorthodox techniques used when playing a musical instrument in an unconventional way, to coax new timbres from a traditional instrument.
Since the early 20th century, the piano has been at the forefront of this trend, with composers such as John Cage preparing the piano with nuts and bolts, Henry Cowell composing pieces in which the performer reaches inside the piano and plucks or strums the strings, and Stephen Scott bowing the strings with an ensemble of performers to produce an orchestral sound.

The latter inspired us to create the ground-breaking Bowed Piano instrument in 2008, and now we have revisited the same piano to build on that concept and further explore extended piano techniques for an exciting new suite of instruments.

For the ( Xtended ) Piano collection, we have explored 5 different techniques and created a virtual instrument for each.
(Xtended) Piano features
5 Kontakt Player Instruments
6GB Sample Library ( 3.5 GB with NCW ).
24 Bit 44.1khz Stereo Sampling.
Multiple Articulations, Key-offs, Round Robins, Velocities.
KSP Jammer, Strummer + Glissando modules.
The (Xtended) Piano collection is available to purchase for 99 EUR. A 15% discount is available until 1 October, 2010, with promo code 0EKR5R1HTT
More information: Soniccouture / (Xtended) Piano