sonicLAB has introduced the PaSSBot, a stochastic filter bank plugin that handles a massive cloud of parallel filters.
PaSSBot offers complex modulation capabilities and can drive up to 64 parallel Biquad, SVF, Ladder and Resonator filters.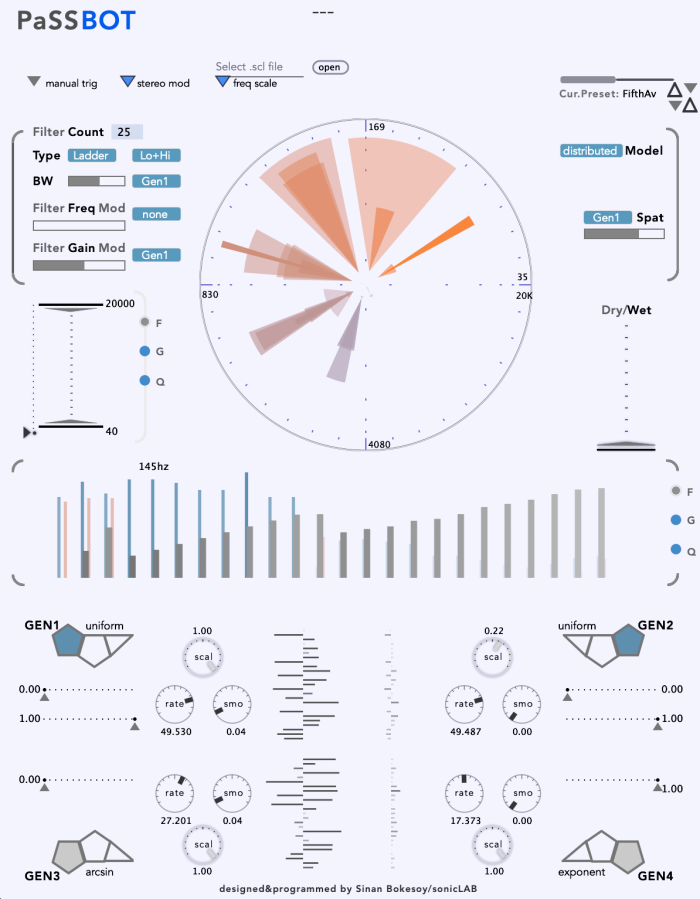 PaSSBot features
4 stochastic modulators (GENs) with a rich palette of continuous or discrete stochastic distributions and also standard waveforms.
Up to 4×64 GENs addressing each filter's parameter space individually (freq, resonance, and gain) and other operations.
Low/High barriers do wrap the values when they enter beyond selected limits for filter freq, resonance and gain parameters.
Harmonic filter distribution where the spread ratio can be modulated.
Filter frequencies can be tuned to scales. PaSSBot can read .scala file format.
Continuous operation or manual on/off triggering.
Each filter can use an individual AR envelope with random duration.
Stereo spatialization of each filter with GEN modulation.
Compatible with the BOTTrig for remote triggering.
PaSSBot (64-bit VST3/AU) is available for the introductory price of 49 EUR until March 7th, 2020 (regular 69 EUR). The BOT bundle is on sale for 129 EUR during the promotion.
More information: sonicLAB