sonicLAB has announced the release of the VOLBot audio processor, a new stochastic amplitude modulator which offers a unique distributed server/client audio engine structure.
The plugin offers an LFO with versatile modulation sources rendering complex amplitude sculpting.
The VOLBot can distribute itself over multiple DAW tracks as 1 server and its multiple clients. The clients receive their parameter space from the server instantly, can be controlled from the server interface directly and all together; but they have their independent audio engine.

Each instance of the VOLBot client will be on the same range as the server, but will demonstrate a stochastic variation of the modulation created by the VOLBot server. The variation potential being created algorithmically will save you a lot of manual experimentation efforts and present compositinal possibilities which you wouldn't imagine before!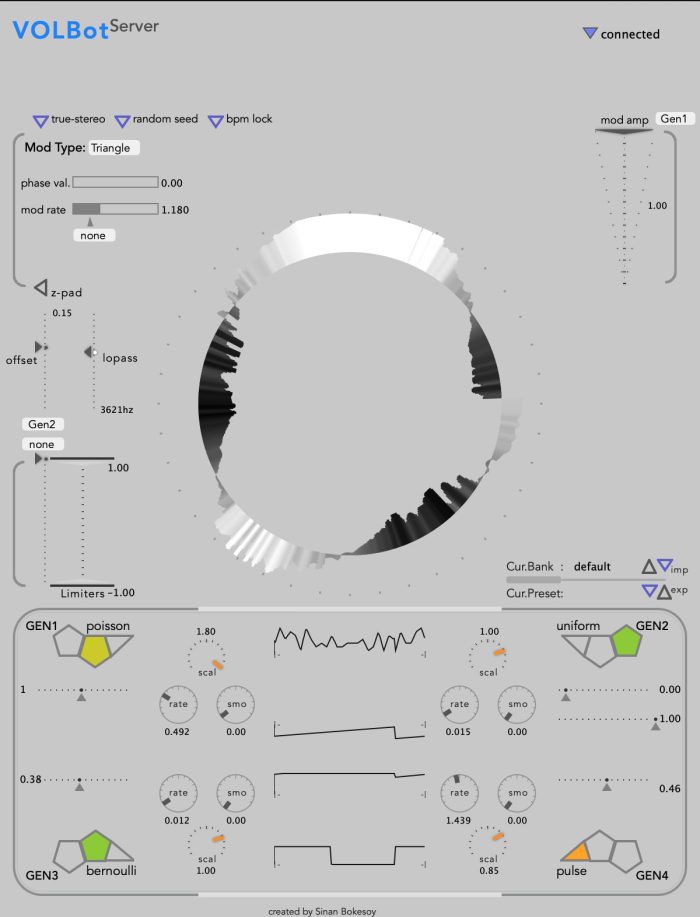 VOLBot features
4 independent stochastic modulators targeting various parameters of its LFO at the same time.
A multitude of discrete and continuous stochastic distributions and standard waveforms are available for various configurations of rich audio sculpting.
Waveform offset handling and limiters with transparency control, all with stochastic modulation.
Wide range of parameter handling and highest precision waveform rendering.
Easy handling / almost automatic setup of server / client instances on your DAW.
VOLBot server raw LFO output can be routed as a super CV source for your external modular gear, as well with the client outputs.
VOLBOT is available in VST3 and AU plugin formats, priced at 59 EUR (server and client version). It is on sale for the intro price of 39 EUR until May 15th, 2019.
More information: sonicLAB