sonicLAB has announced version 4.1 of Cosmosƒ FX, the plugin that can process live audio input in various ways.
The update offers comb filters which can be modulated continuously with stochastic events while processing the input sound.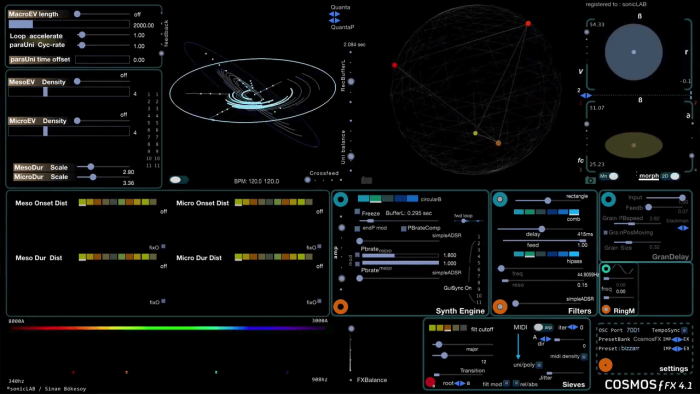 Cosmosƒ FX4.1 offers carefully balanced comb filters of which parameters can be modulated stochastically.

With the powerful continuous parameter rendering tools on Cosmosƒ, creating altered spaces through the dynamic comb filters is at your finger tips.

Also there are some fixings and improvements as usual.
Other changes in Cosmosƒ FX v4.1
The plugin opens with GUISync parameter turned 'on' by default.
OSC port number will be saved along with the presets and also to the DAW plugin buffer.
Some morphing engine parameters were not saved at DAW plugin buffer, fixed now.
You can launch safely on a non-retina display directly if you have multiple screens connected.
The image disturbance on the Cosmosƒ morphing engine UI is fixed for the old MacBookPro models with dual graphic cards.
Cosmosƒ FX for Windows and Mac (VST/AU) is available for 89 EUR. Registered users of Cosmosƒ FX4 can update for free. Existing users of Cosmosƒ v4.1S and Cosmosƒ v4 can crossgrade for 20 EUR until August 1st, 2017.
More information: sonicLAB