SonicProjects has released released the VM Bundle, a package of adapted versions of OP-X and Stringer plus two effect plugins and pre-configred ready to play banks, exclusively made for the V-Machine and V-Rack.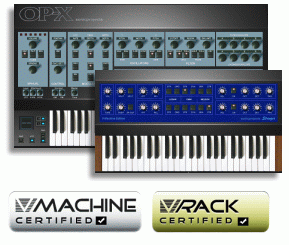 The standard versions already could be gotten to work in the V-Machine with the help of complicated wizard files but with less than satisfying results. Some patches did max out the CPU completely with all known consequences like crackling and drop outs. Some patches have barely worked, but not to think of adding any effects. A further problem was preset change, which everytime completely unloads and reloads the plugin. OP-X didn't like this at all because its oscillators are free running and zeroing them on every preset change did also reset the phases to zero which could result in a short "phasing" after preset change until the oscillators have found their own individual phase.

That's why we took the effort to analyze the plugins and their behaviour within the V-Machine in order to adapt them for this new host, with astonishing results. With a long list of small changes we were able to reduce the CPU consumption by almost 50%(!) and change the startup behaviour to be immune to the repeated reloads. Furthermore all not needed GUI functions like keyboard animation were deactivated and the internal patches number in OP-X increased to 128, containing a selection of the best patches of the whole library.
VM Bundle includes
OP-X – The adapted V-Machine version of OP-X, which is an extremely versatile polyphonic VA synth featuring the renowned Separate Voice Design (SVD). It's capable of emulating a variety of famous classic analog synths in unparalleled authenticity.
Stringer – The adapted V-Machine version of Stringer which is a sample based emulation of the classic vintage string ensembles ARP Omni/Solina, Logan String Melody II and Welson Symphony. The samples were recorded with high end equipment.
SimpleDelay – A simple delay plugin optimized for synth sounds exclusively developped for the VM Bundle with very low cpu consumption.
SimpleDelay – A simple reverb plugin offering three basic parameters and some useful presets exclusively developped for the VM Bundle with very low cpu consumption.
The VM Bundle is available for purchase for the introductory price of $99 USD / 75 EUR (regular price is $149 USD). The bundle also contains the standard PC VST version of OP-X (so you will have reduced price on upgrades and coming new products).
Visit SonicProjects for more information.