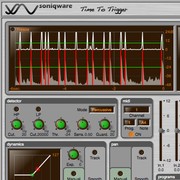 SoniqWare has released T3 (Time To Trigger), a MIDI trigger plug-in for Windows and Mac.
SoniqWare releases T3 (Time To Trigger), a stereo MIDI trigger engine that listen to incoming audio, detects new events, and sends MIDI notes with appropriate dynamics and pan to control a drum sampler or any other synthesizer, all this live. To be used for drum replacement or synthesizer control through audio, in combination with any plug-in or external synthesizer.
T3 features
Fast and accurate detection engine
Pinpoint frequency band used for detection using low-pass and high-pass filters
Control both detection sensitivity and detection loudness threshold
Adjustable guard to avoid faulty double triggering
Percussive trigger mode, to be used for instance for drum replacement
Sustained trigger mode, where sustained sound generate sustained MIDI notes
MIDI channel, program, and note control
Continuously adjustable dynamics curve, linear and non-linear
Velocity and pan captured from the input signal
Velocity tracking in sustained mode: expressive changes in the loudness will generate appropriate MIDI expression messages
Pan tracking in sustained mode: a left-right panned input audio will generate a left-right panned MIDI note
Graphical display: signal loudness and internal detection signal
L/R vu-meter with hold peak and clip readouts
Supported sample rates: 44.1, 48, 88.2, 96, 176.4 & 192 kHz
Stereo operation
Load/save programs and banks
VST automation of all parameters
Silent controls
Use of SSE1-SSE5 instruction sets
T3 for Windows and Mac (VST) is available to purchase for 99 EUR.
More information: SoniqWare / T3 (Time To Trigger)