Plugin Boutique has launched a Black Friday sale on Sonivox, offering discounts of up to 87% off on two of its bundles.
The Film Score Companion bundle comprises 5 instruments: Orchestral Companion Brass, Strings and Woodwinds, Eighty Eight Ensemble and Big Bang Cinematic Percussion.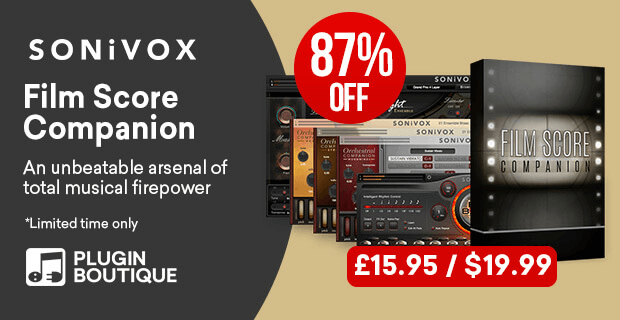 Music can make or break any film or game. Dialog, scenery and great effects are simply not enough to convey the full feeling and emotion of what the filmmaker or gamemaker is trying to express. It takes more than a clever or humorous script. It takes more than great special effects and CGI. And it even takes more than a perfectly-delivered sarcastic Nicholson quip or raised eyebrow.

It takes music. Thoughtful, correctly-timed, appropriately-themed music. From sci-fi thriller and heart-wrenching drama movies to grand-scale end-of-the-universe games and everything in between, music is an indispensible pillar upon which a production's success is built.

What would Jaws have been without the menacing drun-da, drun-da, drun-da in the background, announcing the imminent arrival of one of filmdom's most infamous villains? Does anyone not know that music?

Whether you're the next Hans Zimmer, John Williams, Quincy Jones, or just looking to add some great sounds to your video from last summer's trip to Aruba, you need a complete film score sound production package. You need the best. You need Film Score Companion.
The bundle is on sale for £15.95 GBP / $19.99 USD.
The Premier Collection includes the instruments from the Film Score Companion and adds the TimewARP 2600 synthesizer, Twist and Wobble, Big Bang Universal Drums, and the Singles instrument collection.
You're the composer / producer who can't be limited. You can't be restricted to a certain creative style or constrained by conventional artistic boundaries. You need it all—every inventive tool you can get your hands on.

Premier Collection by Sonivox is for you. This collection has it all… Every Orchestral instrument you can imagine, vibrant, lifelike piano, the full spectrum of dynamic percussion sounds, Hip Hop stylings and every electronic effect there is, including all the synth, grunge and grime you'll ever need. It's all here, perfectly organized, easy to use and ready to go.
The Premier Collection is on sale for £47.95 GBP / $49.99 USD.
The offer expires January 6th, 2020.
More information: Sonivox