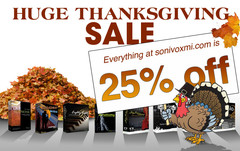 Sonivox has announced its Thanksgiving Sale, offering 25% off its products for a limited time.
NOW through Monday only! Use Coupon Code "Turkey" to Save 25% off EVERYTHING at www.SONiVOXMI.com

It's easy, during the checkout process just enter the Coupon code "Turkey" and 25% will be deducted from all purchases. Save big on EVERYHING, DVI's, Big Bang, Broadway, Symphonic, TWIST, WOBBLE, PULSE, VOCALIZER, Sampla, Playa, Anatomy, and Everything else ALL 25% off!!!! Act Fast!!!! Offer Ends 12am (cst) November 29th 2011.
More information: Sonivox