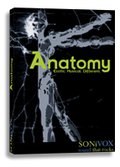 SONiVOX MI has released Anatomy, a sample library for Kontakt featuring human body sounds.
Anatomy offers up over eight-hundred of some of the most unique and uniquely playable instruments that twist and transform the human body into one expansive collection of physiological melody and rhythm. Anatomy sonically explores the human condition in ways never dared attempted previously, delivering you a deep, diverse & rich new palette of sonic colors and textures.
Making it easier for users to navigate through the mysteries of the body, all instruments included in Anatomy are separated into the following two categories.
Man: Raw and organic samples straight from the source. Plenty of tweaked preset variations to make a good thing even better, and funkier.
Machine: Lovingly effected and manipulated interpretations of the human condition as it might be perceived through the binary brain cells of a bloodless future race. Agitated androids. Slumbering cyborgs who dream of electric sheep. Cinemascapes of hallucinatory terror and funhouse anxiety. Transform. Transmogrify. Transmit.
Both categories feature the following instrument sub-categories:
Beat Box Kits: The definitive collection of vocal beat box percussion. Over 50 unique kits with a massive tool box of additional kicks and snares for even more flexibility. Boston beat box guru Steve Foxx stepped up to the mic and laid down a staggering array of sound that the SONiVOX design team edited and programmed into intuitively playable patches that are sure to suit every type of music from rock and hip hop to acid jazz and electro funk. Even better, Anatomy's kits are GM compliant making them easily droppable into existing sequences.
Vocal Pads and Leads: Over 100 Vocal pads and leads, from the ethereal tones of Tibetan tuvan throat singing to humming, whistling and more.
Body Percussion: Snaps, claps, foot stomps, and heartbeats. Imagine the heart as the rhythm section and ultimate timekeeper.
Vocal FX: From the ordinary to the extraordinarily strange. Blips, burps, gurgles, growls, groans, and nostril snorts. Laughing, moaning, and simulated emotional breakdowns. Plenty to satisfy ones appetite for the bizarre and unusual.
Choirs: A complement of male and female choirs and choral groups with a variety of articulations and programming variations. Ethereal voices and intimate utterings.
Anatomy is available now for $219 USD.
Visit SONiVOX MI for more information.