Sonixinema has announced the release of Superball, a new innovative evolving percussion library for Native Instruments Kontakt.
Performed by Joby Burgess (Black Panther, Mission Impossible) and recorded by Nick Wollage (Star Wars, Wonder Woman), Sonixinema has sampled a variety of Orchestral Bass Drums, Timpani, Taiko, Thunder Sheet and Gongs using Superball friction mallets to create a library of evolving sonic textures.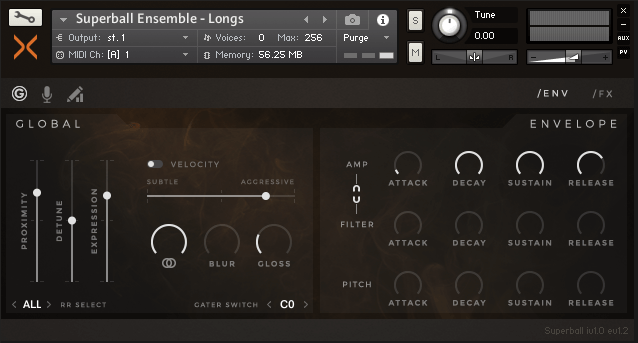 Working in close collaboration with virtuoso percussionist Joby Burgess and Emmy nominated recording engineer Nick Wollage, we have created a virtual instrument like no other. Superball is a rare type of mallet with a rubber ball end, which is used by percussionists to create a unique waling drone-like sound. It is performed by dragging the rubber head of the mallet along a surface, creating friction, which produces a wave of unusual and unique sonic textures that vary depending on the size of the Superball, type of percussion and technique. Superball is a non-transient sound that open-endedly shapes and transforms as the motion, pressure and intensity of dragging of the mallet continues.

To capture Joby's performance on these magnificent instruments, we chose the world famous British Grove Studios which was built by legendary Dire Straits front-man Mark Knopfler, located in the heart of London. We chose it for its lush sounding large live room, collection of vintage and modern microphones and the fantastic 96 channel Neve 88R desk running through the worlds best Prism Sound analogue to digital converters. This studio has been used to record such scores as Gravity, Mission Impossible: Rogue Nation, Macbeth and Stardust.

Finally, we have designed and built a dedicated powerful sampling engine with an intuitive interface, which allows the user to perform and shape the sound much further. It offers a variety of sound shaping tools, from one fader to move across all microphone setups called 'Proximity', to ability to morph between subtle and aggressive articulations, all the way to complete reshaping tools such as advanced 'Gater' with a programmable step sequencer and selection of effects. You don't need to read the manual to use the instrument, but we highly recommend you do because we are certain you will learn some tricks that you wouldn't know about otherwise.
Superball features
Includes orchestral bass drums, taiko, timpani, thundersheet, gongs.
13.6 GB uncompressed WAV delivered as 9 GB NCW.
7.5 GB download size.
5 microphone positions.
250 presets.
65 impulse responses.
Kontakt engine with controls for proximity, expression, velocity, tuning, stereo spread, blur and gloss, 32-step gater with over 500 rhythmic presets and more.
Superball is available for the intro price of £119 GBP (regular £149 GBP).
More information: Sonixinema