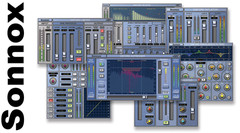 Sonnox and DontCrack.com have announced a Group Buy promotion.
DontCrack engaged quite ambitious negotiations as they'll need over 300 subscribers that commit to buy any of the 9 hot Sonnox bundles (3 per format (Native, TDM or PowerCore) to reach the +50% discount. But looking at their previous promotions, we are very confident that this unique Sonnox Group Buy promotion will do more than well with the first bundle (Enhance Native Bundle) that should reach the attractive pricing of only $270 (MSRP $540). The Full Elite Native bundle that could be sold at round down price of only $599 (MSRP $1260) if the amount of subscribers is reached. That sure would be a once in a life time Sonnox promotion…

As we all know, Sonnox Oxford Plugins (formerly Sony Oxford Plugins) are considered to be among the highest quality audio plugins ever made for professional studios, producers, musicians, etc. Typically companies like Sonnox don't like to see their products discounted but they followed-up with DontCrack that has committed to buy a quite huge quantity of plugins what ever happens says Peter Donovan, marketing Director at DontCrack.com.
This Group Buy promotion will run from December 1 to 13, 2009 and 5 days will be made available for subscribers to purchase the product they committed to buy (sales are from December 14 to 18, 2009).
More information: DontCrack.com