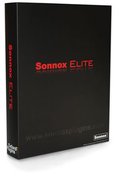 Sonnox has released Sonnox ELITE, the Ultimate Oxford Plugins Collection.
To provide the most cost-effective way for discerning audio professionals to own all the Oxford plug-ins, we have introduced 'Sonnox ELITE,' the ultimate collection of the entire product line.
Sonnox ELITE features
Full range of all seven Oxford plug-ins: EQ, Dynamics, Inflator, Transient Modulator, Reverb, Limiter and SuprEsser.
Offered at a substantial 40% discount from individual unit prices.
TDM and Native versions.
Sonnox ELITE is available for HD at £1,554 GBP / $3,060 USD / €1,940 EUR (approx.), and the Native version costs £744 GBP / $1,467 USD / €930 EUR (approx.)
In addition to Sonnox ELITE, two attractively priced alternatives are also available.
Sonnox Essential – combines the Oxford EQ, Dynamics, Reverb and SuprEsser plug-ins to provide definitive control of all mixing processes;
Sonnox Enhance offers the ultimate option for maximising loudness and enhancing your mix, containing Oxford Inflator, Limiter and Transient Modulator.
Visit Sonnox for more information.