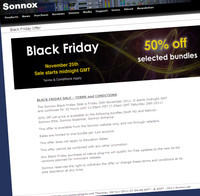 Sonnox has announced a Black Friday Sale, offering 50% off selected bundles for a limited time.
The Sonnox Black Friday Sale is Friday 25th November 2011. It starts midnight GMT and continues for 32 hours until 11.59pm PST (7.59am GMT Saturday 26th 2011)

50% Off List price is available on the following bundles (both HD and Native): Sonnox Elite, Sonnox Essential, Sonnox Enhance.
More information: Sonnox