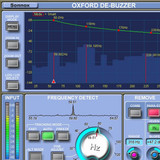 Sonnox has released updates for the Mac versions of Oxford DeBuzzer and Oxford SuprEsser, two effect plug-ins for PC and Mac.
Changes in Oxford DeBuzzer AU v1.0.1/VST v1.0.2
Fixes crash in Snow Leopard.
Changes in Oxford SuprEsser AU v1.1/VST v1.0.1
Added new installer technology. Separated AU installer from VST version.
Fixed crash in Logic when instantiating or re-opening a closed GUI.
Fixed problem with .aupreset installation.
Zoom now implemented to original spec.
More information: Sonnox