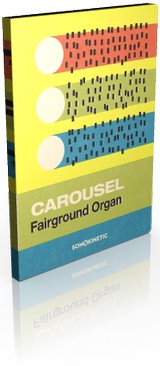 Sonokinetic has announced the release of Carousel, a virtual fairground barrel organ instrument for Native Instruments Kontakt.
This library will give you full access to an original authentic Carousel barrel organ to compose your music with. Without hiring a music role producer, renting and evacuating a fun fair, cleaning the steam engines of excessive noise, pitching the organ and endlessly riding the Carousel. Just load up your Kontakt 4 in 64 bit, set your voice polyphony to 300 and off you go.
Carousel features
Core samples: 1 Carousel fairground barrel organ sample collection.
1 instrument, for Kontakt 4.1. with up to 3 tab screens – Main View, Convolution, and a credits tab.
Release trigger samples and sustain samples with perfect loop areas.
400+ samples. (424MB sample content).
10 recorded registers. Covering Bass, midsection and melody instruments.
Percussion set with bass, snares, bells and cymbals.
3 impulse responses: 24 bit wave format. Indoor Carousel 1, Indoor Carousel 2 and Indoor Carousel 3. All recorded on location.
Custom designed interface.
Interface installers for Mac, PC and manual instructions.
Royalty and copyright free content license.
Carousel Reference document (PDF).
Historical and Musical Origins, Reference (pdf). A historical view on fairground organs".
Artwork: "Carousel" dvd cover. Designed by Pavel Fuksa.
Sonokinetic Carousel is available to purchase for €19.90 EUR.
More information: Sonokinetic