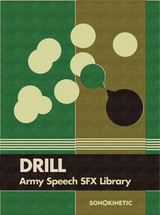 Sonokinetic has announced the release of Drill, a one-of-a-kind military speech sound effects sample library.
With over 4000+ sound effects of the highest quality, authenticity and realism this collection covers 'high impact' Senior Drill Instructor quotes, battle field action radio communication cues, morse code, drill commands and many more dedicated Military speech sound effects. With this library we aim to extend our Sonokinetic legacy of speech sound effects like Trailer Voice and Cop Radio.
Drill features
Base samples

: Radio Communication, Senior Drill instructor and Extras.

Radio Communication folders

: Action Stuff (Battlefield radio cues), Cursing (offensive and profane!), Drill Sergeant Radio (high impact and bone crushing insulting slang and cursing), Military Sentences (Short battlefield requests and commands), Military Slang (Original and Authentic GI slang), Multiple Digit Numbers, Random Numbers, Military Alphabet (Alpha to Zulu), Military Radio Manual separate recorded commands (Original and Authentic manual codes and commands), Single digit numbers.

4 Radio type samples

: Basecamp (command station receiver), Helmet Radio (on sight personal radio), Helicopter (cockpit cabin intercom and in-flight sound fx additions) and British World War II radio (antique radio receiver) + one set clean recorded (unedited version).

Senior Drill Sergeant folders

: Breaking the Private (Very offensive and profane!, drilling candidates), Cursing (Profane) and Drill Commands (Realtime drill commander on sight field recording (recorded outside)).

Extras folder

: Battle Scenes SFX, Morse code Alphabet, Radio Communication interference, Radio SFX and Trumpet Calls.

Documentation

: Script Reference, Sonokinetic license (royalty free statement), Creative Commons statement.
Full color DVD artwork by Pavel Fuksa.
1.06GB extracted.
All files in 48 kHz, 24 Bit, Wave format (mono and stereo).
Sonokinetic Drill is available to purchase for 19.90 EUR.
More information: Sonokinetic