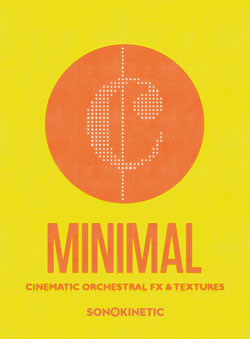 Sonokinetic has released Minimal Orchestral Patterns & FX, a virtual instrument library for Native Instruments Kontakt.
With Minimal, Sonokinetic BV delivers the fourth instalment in our current range of orchestral instruments. We have listened to our users, and built an entirely new system from the ground up, defining what we think is a revolutionary novel direction in orchestral pattern-based sampling.

Minimal would suggest a particular music style, and many of the patterns available in this instrument are very well suited for that style. However, we'd like to stress that this is indeed a very flexible instrument, capable of enhancing a broad range of musical arrangements and compositions in a wide variety of styles. Where Minimal differs from libraries like Tutti and Vivace is in its section-based approach. All phrases are recorded per orchestral section and can be used separately or together and in any combination, allowing for a great deal of variations at your fingertips.
Minimal features
16 Bit version 10.8 Gb sample pool, 33800+ samples, 24 Bit version 21 Gb sample pool, 33800+ samples.
4 recorded orchestral sections: Strings 52 players, Woodwinds 12 players, Percussion (two marimbas, xylophone, piano and celesta), Brass 11 players.
4 recorded microphone positions: Close, Decca tree, Wide, Balcony.
Proprietary stereo mix for the 'lite' instrument.
Individual section controls include Volume, Pan, Rhythmic Shift double/half/triplets, Harmonic Shift, Crossfade adjustments.
Custom designed interface with enhanced score display.
Time Machine Pro capability.
Custom chord recognition and Harmonic Shift capabilities.
Advanced Purging system.
The Kontakt Player powered library costs 199.90 EUR.
More information: Sonokinetic / Minimal Orchestral Patterns & FX