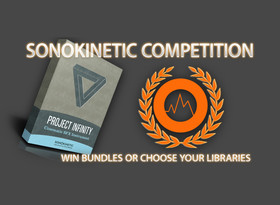 Sonokinetic has launched the Project Infinity Contest, a music production contest.
Download the free version of "Project Infinity" or buy the full version of "Project Infinity"

For the next two weeks we're accepting compositions and public votes on which is the best. The sooner we get your composition in and your friends voting for you the quicker you're making a stand

Competition closes on September 6th (20:00 CET).
Prizes include the Project Infinity sample library (for those entering with the free download) and the Sonokinetic Complete Bundle (when entering with a track using the full version of Project Infinity).
More information: Sonokinetic