Sonokinetic has announced the release of Gediz, a Turkish male vocal sample library for Native Instruments Kontakt.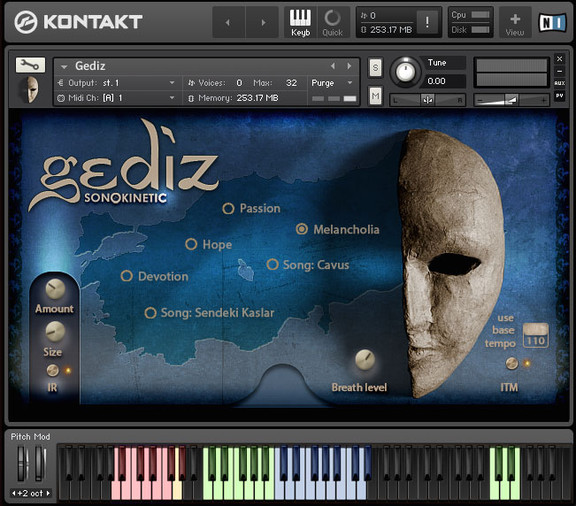 With 'Gediz' we continue on the path we began all those years ago with 'Tigris and Euphrates'. Since then our premium ethnic vocal range has spawned some very special instruments packed with stunning vocal performances.

Gediz Coroglu is an amazing vocalist with a unique voice and singing style. We couldn't help feeling goosebumps during these extraordinary sessions in Istanbul so we're so pleased that we finally turned these special recordings into a product. Gediz recorded improvisations in 4 keys and at 2 tempi, and in 4 different 'themes'. As a bonus he recorded two ancient songs for you to use in your compositions, also in two tempi, but because of the fixed range of a song only in two different keys.

As you can hear from the demos written by our talented composers, a major strength of Gediz's singing is his delivery and performance. Even when there are no lyrics, or they are in a language we don't understand, we know exactly what he is saying. The emotion never ceases to touch us.
Gediz features
44.1kHz/16-bit NCW format.
2,400+ samples.
600 MB uncompressed.
Royalty and copyright free content license.
Gediz costs 49.90 EUR ex. VAT. It is free to download until March 11th, 2015. Requires full version of Kontakt 5.
Download it within the next 7 days and get it absolutely FREE!! With this we would like to express our gratitude to all the people we worked with for all these years, and especially you as a continuous Sonokinetic supporter.
More information: Sonokinetic / Gediz