Sonokinetic has announced the release of Grosso, a virtual orchestral instrument library for Native Instruments Kontakt and Kontakt Player.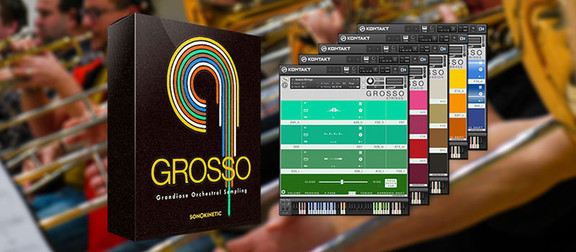 With Grosso, Sonokinetic BV is changing the paradigm for orchestral phrase-based instruments… again! Before our Minimal library, the level of control, whilst retaining the authentic sound that live recordings bring to the party, was unheard of. We have gotten so much positive feedback on Minimal that a 'sequel' was unavoidable. Mere sequels is not what we do though at Sonokinetic, so if you look at what Grosso brings to the table, you will see an evolved entity that is a homo-sapiens to Minimal's homo-erectus.

We have conceived this instrument from the ground up, using parts of the Minimal engine and reimagining many other things to accommodate for the added flexibility Grosso brings to the table. The main difference, apart from the obviously upbeat nature of the recorded material and the addition of a choir part and a taiko and non-melodic percussion section, is that we split out the orchestral sections into more parts. Strings and choir are split in low – mid – high, woodwinds and brass into low and high, percussion into taiko and more traditional orchestral percussion. All of these elements have been carefully composed to work well with all of the others, resulting in millions of possible combinations of sounds.
Grosso features
6 Instrument patches covering Strings, Brass, Percussion, Woodwinds, Choir and a Dynamic builder tool for transitions composing.
Including Timestretching and tempo syncing using Native Instruments Time machine Pro 2 & Sonokinetic's Intelligent Tempo Mapping.
44.1kHZ – 24bit and 16bit NCW format (36.000+ samples each).
Royalty and copyright free.
The library is available for purchase for a three week introductory price of 249.90 EUR (regular 299.90 EUR). Prices excl. VAT.
More information: Sonokinetic / Grosso