Sonokinetic has announced availability of its new Indie Small Orchestral Ensembles instrument library for Native Instruments Kontakt.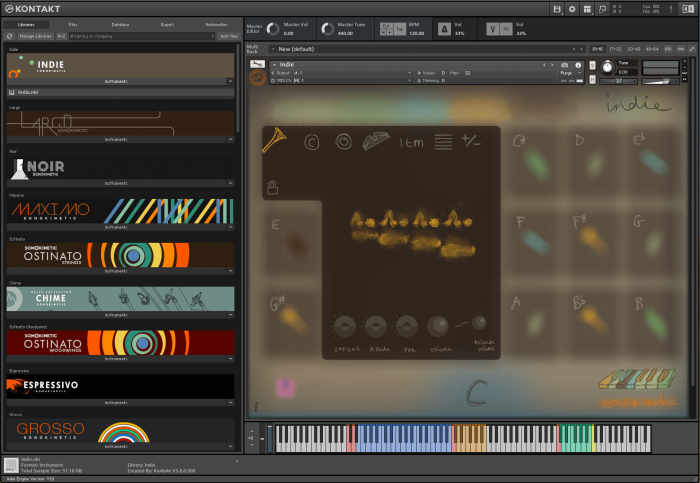 Many people assume that Sonokinetic's signature sound is grand and statuesque, as we fill our recording space with many talented players and layer phrases together in our bespoke Kontakt engines. However, sometimes it's great to dial things down for a more personal feel, and that's just what we've done with Indie. The style of these intimate ensemble phrases take their lead from modern TV drama, boutique film and independent video games with a naked and personal sound.

Recording smaller versions of our string, woodwind and brass ensembles just wasn't enough this time around, so we've also supplemented them with a huge selection of melodic percussion phrases. For the first time ever, string quartet phrases have been included, perfect for layering with the other ensembles to bring the focus back to your compositions. The overall emphasis here is on the lightest of touches, from delicate violin duos and solo clarinet to harp glissandi and gently played mallets.
Indie features
5 recorded orchestral sections: String Quartet (4 players), String ensemble (13 players), Woodwinds (7 players), Brass Quintet (5 players), Melodic Percussion.
Melodic percussion instruments include: Marimba, xylophone, glockenspiel, vibraphone, crotales, upright piano, celesta, concert harp and concert cimbalom.
47,000+ samples, 44.1kHZ/24-bit.
62GB NCW format.
Custom designed interface with score display.
Time Machine Pro capability.
Purging system.
Accessibility switched GUI.
Randomization – whole instrument and per-section.
Royalty and copyright free.
Native Instruments Komplete Kontrol NKS 1.5, Kontakt & Kontakt Player 5.8.1.
The library has an MSRP of 249.90 EUR. Until April 13th you can get Indie for the intro price of 199.90 EUR. Loyalty discount prices are available for regular customers.
More information: Sonokinetic